Skip Navigation
Website Accessibility
Beginnings Quilt Shop is an authorized Janome dealer
We offer a full line of machines, accessories and service.
At Janome, our mission is to produce machines which inspire creativity and innovation, yet are simple to use. The better your tools, the more inventive, artistic and pleasurable your sewing experience.
Continental M17
Over 1,200 built-in embroidery designs and the largest embroidery hoop in the industry at 11.3" x 18.2" open up a whole new world of design capabilities. Five included embroidery hoops to use with the built-in programs from monogramming, to sashiko and everything in between. Janome's original features such as AcuFeed, QuiltBlockAdvisor, and Artistic Digitizer are included.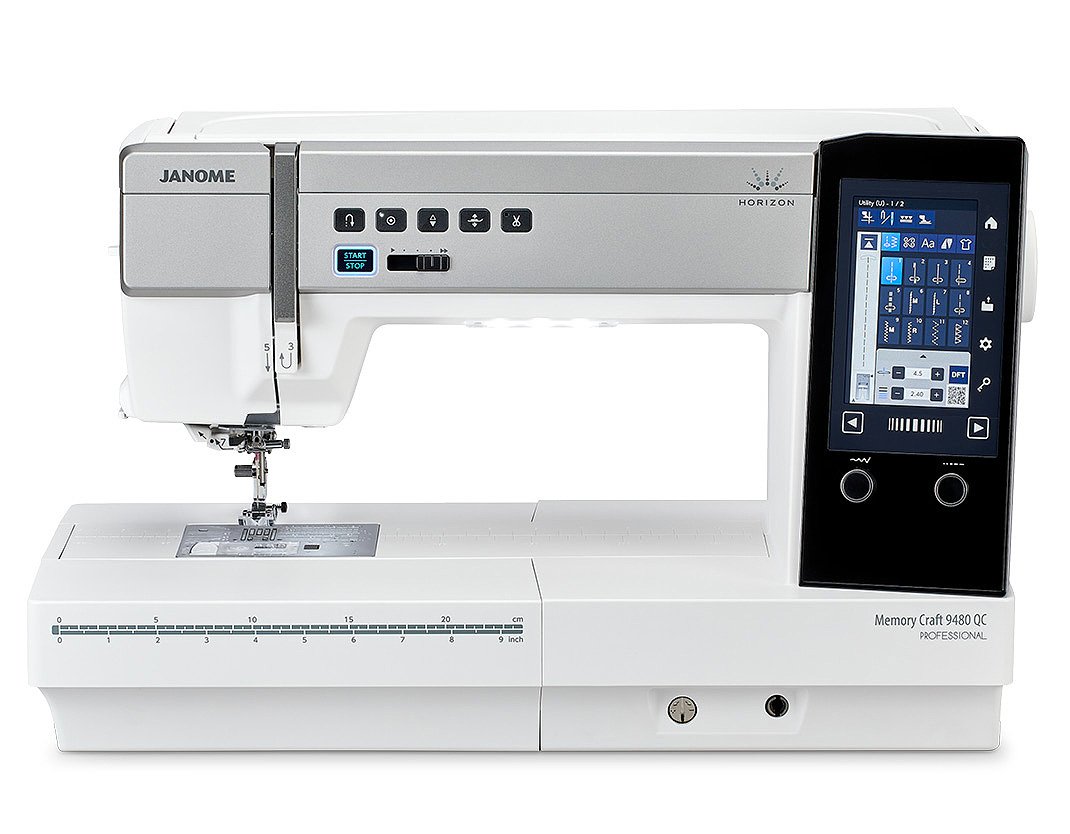 Memory Craft 9480QCP
Features 400 built-in stitches, 11 one-step buttonholes, and alphanumeric fonts, including 9mm lettering and numbers. Customize each stitch, including buttonholes, plus save your favorite stitches easily using the 5-inch High-Def Color Screen. The 9480QCP includes AcuSpark2, an updated Superior Needle Threader, and offer Accurate Stitch Regulator as an optional accessory.
AirThread 2000D
Serging Simplified. Every project is easier with the right tools for the job, and the AirThread 2000D provides all the tools you need to deliver professional quality finishing. With Janome's One-Push Air Threading System the tedious threading of upper and lower loopers is a thing of the past. The 8-Piece Feed Dog System will easily grab and feed your fabric, from slinky knits to denim, the AT2000D will meet the challenges of your sewing projects. The Built-in One-step Converter makes changing from 3-thread to 2-thread applications easier than ever. And with a built-in needle threader, manually threading your serger needles becomes easier than ever. One unit provides threading of both the right and left position needles.
Continental M8
See how advanced engineering and technology combine to bring you everything you need for Hi-Definition Quilting and Sewing. The Accurate Stitch Regulator ensures that every quilting stitch you make is perfect while the professional grade HP Needle Plate and HP2 AcuFeed options allow you to piece with precise 1/4" seams. Use the free AcuSpark2 app with the Continental M8 Professional to see more information about each stitch, review recommended settings, and see what options are available. Or, use the Sewing Applications menus to select your stitches by choosing what kind of sewing you are doing. Features include 450 built-in stitches up to 9mm wide, including 3 fonts, extension table with storage drawer, 12 specialty snap-on presser feet, Variable zigzag for free motion quilting, ruler work mode and more.
Memory Craft 6700P
The Memory Craft 6700 Professional provides the speed and precision critical to advanced sewing and contains serious features for the serious sewist. Sewing speeds of 1,200 stitches per minute make the 6700P one of the fastest Top Loading Bobbin machines in the industry. Includes 200 Stitches PLUS 5 Alphabets, 10" All-Metal Seamless Flatbed workspace, AcuFeed™ Flex Layered Fabric Feeding System and 17 included accessory feet.
Skyline S9
The Skyline S9 is the first machine in its series to include both sewing and embroidery. This great machine includes Wi-Fi capability that makes it easy to send embroidery designs from an iPad or computer straight to the machine. Enjoy choosing up to 250 embroidery designs, including 40 exclusive designs by Anna Maria Horner along with 300 stitches. With a maximum embroidery size of 6.7" x 7.9" and sewing speeds of 1000 SPM, the Skyline S9 provides a full suite of powerful capabilities to ensure all projects are beautiful, yet easily executed. Navigating through these great features is easy with the Skyline S9's LCD color touchscreen.
5300 QDC
Designed to be lightweight yet feature-rich, this machine offers many of the functions you would expect in machines at triple the cost. Designed with the sewists in mind, the 5300 has 300 beautiful stitches, including 6 one-step buttonholes PLUS alphabet stitches. You'll also experience Janome's Exclusive Superior Plus Feed System ensuring even, stable feeding with any fabric. The 5300 is the only model in the QDC line to have advanced features like the Superior Needle Threader with Thread Guide, Knee Lifter, and the Optic Magnifier Set (20x, 40x, 60x). In addition, it comes standard with the Quilting Attachment Kit, an extension table, and a hardcover full-size machine that weighs only 13 pounds, so it's easy to take to classes and guild meetings!
3160 QDC
A full-featured machine made with a quilter's needs in mind, the 3160 will deliver all the benefits of a top of the line model, and with an affordable price. You'll find 60 stitches including 6 one-step buttonholes. Janome's Exclusive Superior Plus Feed System offers specialized box feeding on top of Janome's SFS system, ensuring even, stable feeding with any fabric. And the time saving features including memorized needle up/down, one hand needle threader, and lock stitch button make sewing easy. Best of all, this full-size machine weighs only 12 pounds, so its easy to take to classes and guild meetings!
Travelmate 30
The Janome Travel Mate 30 computerized sewing machine will have you sewing like a professional in no time! This user-friendly machine comes complete with 30 built-in stitches, a jam-proof top drop-in bobbin and easy to read LCD display. The perfect size machine for classes and retreats.
CoverPro 3000P
Equipped with an industry-first, built-in top cover hem guide, the 3000P also features an enhanced Tension Level Control (TLC) to provide added precision in adjusting thread tension for fine knit and standard fabrics. Enjoy smooth, consistent stitching made possible by Janome's ball-bearing driven motor shafts that provide vibration-free sewing. Other classic features include triple-needle and double-needle cover and chain stitches, and a free-arm configuration for those tight spots. Includes the hassle-free built-in needle threader and 3 LED light locations, including our exclusive Hi-light.
Quilt Maker Pro 20
The Janome Quilt Maker Pro 20 offers 2,500 SPI with cruise and precision stitch regulation. Experience effortless quilting using the fully independent, adjustable handlebars making micro quilting a breeze. Never again will you need extra lighting with the state-of-the-art LED lights around the needle, throat space area, and the bobbin area, making it easy to see every stitch and every speck of fuss below. Second guessing needle position is over with our needlepoint laser light that gives you precise needle position. Personalize your handlebar buttons where they are perfect for your needs, whether you are right or left-handed, allowing you to have significant button functions on either handlebar.
Quilt Maker Pro 16
Janome's 16" Long Arm offers quilters, beginner to advanced, the ability to finish any size quilt in the comfort of their own sewing studio. The Quilt Maker Pro 16 offers sewing speeds up to 1,800 stitches per minute. Precision stitching and regulation, even at high speeds, meaning you get more quilting done. The QMP16 is paired with the QMP 5' Quilting Frame, allowing sewists with even the smallest of spaces the ability to round out their sewing area. The Quilt Maker Pro 16 also has the added ability to be paired with our Janome Quilt Maker Pro 10', or 12' frame
#e13d2e